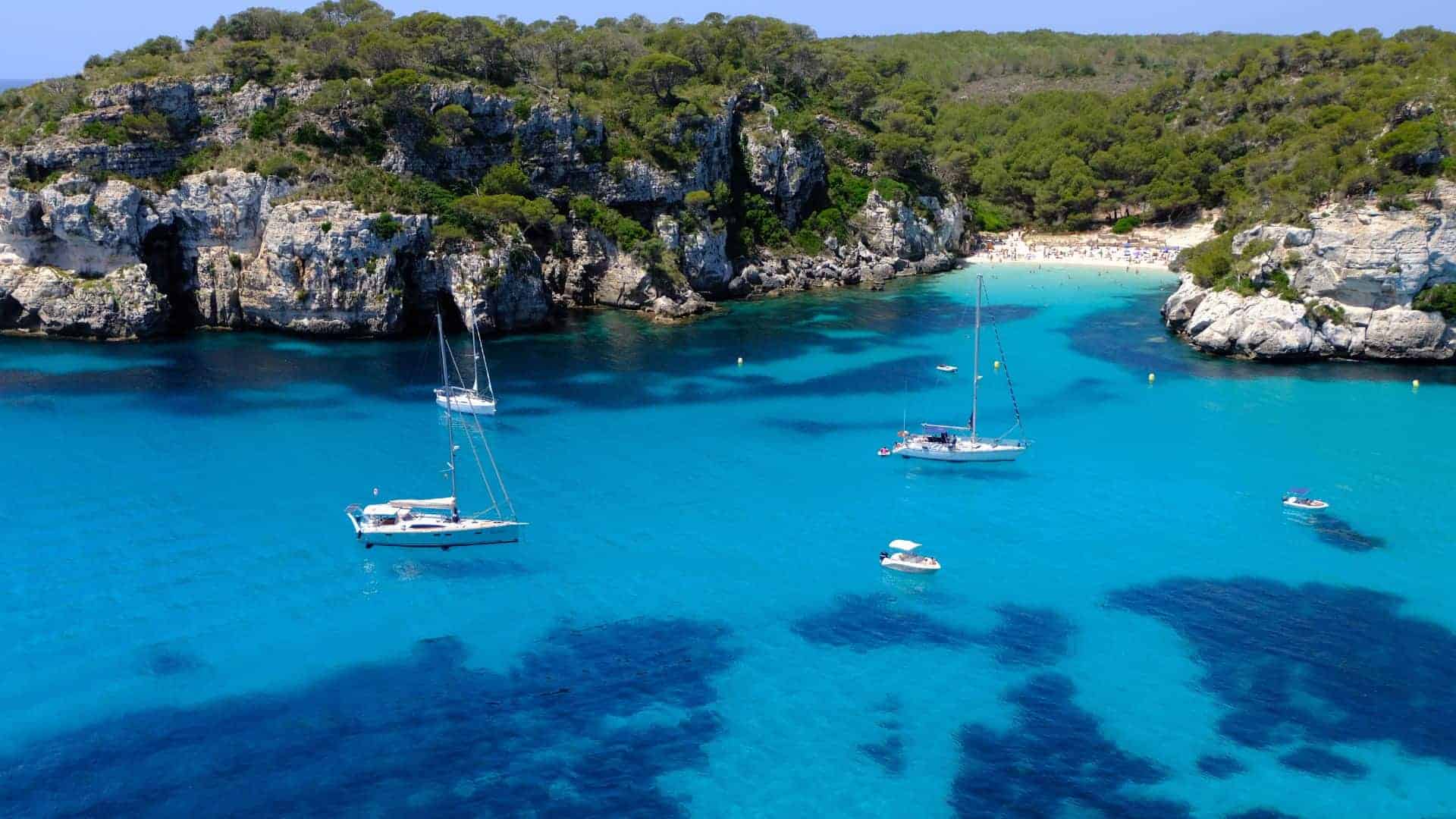 Recommended anchorages in Mallorca by our team
Mallorca is a paradise of coves to go by boat, of course there are many more than I am going to tell you about here, but based on our experience as a charter company with nearly 30 years established in Mallorca we recommend the following ones:
Magician's Cove
The Magician's Cove is also known as Portal Vells, a cove made up of three small coves with sandy anchorages and seaweed (be careful not to anchor on the seaweed as it is protected). It is very well protected from winds and waves from the N, NW, W, SW and S. It has some restaurants where you can order food to be brought to the boat or eat on the shore.
It has a good internet connection.
There are usually a lot of boats, so we recommend arriving early.
D'egos Cove
This is an unfrequented wild anchorage just outside the port of Andratx and difficult to access by land, and wild goats are often found in the surrounding area. The seabed is sandy. On its western side you will find a group of rocks with a small natural pool inside, we recommend exploring the cave, it has something fantastic inside.
It is protected from swell and wind from the N, NE and E.
Poor internet connection.
San Telmo
Lovely seaside village with a good sandy anchorage, but also with buoys for mooring. This village has a promenade full of shops and restaurants offering a good variety of fish and seafood. San Telmo is also situated next to the Dragonera Island, so called because of its dragon shape, which can be visited. A small boat leaves the quay at certain times of the day for guided excursions.
Very sheltered from wind and swell from N, NE, E and SE.
It has a good internet connection.
Ses Ortigues
One of our favourite coves, the southernmost starting point of the wild tramontana and one of the least crowded. Its waters are crystal clear and clean thanks to its exposure to the open sea. This cove is perfect for snorkelling and resting under silent cliffs. On occasions we have even seen yellowfin tuna hunting next to the anchored boat.
It is sheltered from swell and wind from the E, SE and S.
The internet connection is very bad.
There are usually few boats.
The bottom is sandy, but watch out for some shallows close to the shore.
Sa Foradada
They say that the best sunsets are seen from Sa Foradada, and it is true. It is exposed to the west and you can see very well how the sun sets over the sea. One of the things we like the most is to walk up to the highest peak to see the sunset from a small port for dinghys under the cliff.
Pay special attention to the anchorage as there are some areas with depths of around 20 metres. There is a small restaurant that makes very good paellas on the edge of the cliff, but you should check the opening times.
It is protected from wind and swell from NE, E and SE.
The internet connection is bad.
Deia Cove
Cala Deia is famous for its wonderful views of the Tramuntana, crystal clear water and the surrounding vegetation. It is a spectacular place to do some snorkelling and relax sunbathing on the deck. Thanks to the ravine in which it is located, the air is a little cooler than in other coves, which makes it ideal for resting from the hot days. It is only an hour's sail from the port of Sóller and has two restaurants on the beach that serve very good paellas and Mediterranean food. Although the cove is not sandy, it has a small dock to disembark with the dinghy, and you can leave it properly moored so that it does not hit against the rocks.
It is protected from wind and waves from the W, SW, S and SE.
Internet connection is good.
Port de Sóller
This village is emblematic of Mallorca, and is much visited both by land and by sea for its characteristic promenade, shops and restaurants. The anchorage has unbeatable views of the valley, but the water is not attractive, it has a dull green colour. You can anchor in the whole bay as long as you do not obstruct the boats entering and leaving the harbour. If you want to enter the harbour, we recommend that you book a berth well in advance. We advise you to be careful with the anchorages during the night as the wind drops and the boats move at will.
It is a very good shelter unless the wind and swell come from the N, NW and W.
The internet connection is very good.
Sa Calobra
It is a very small cove, with small rocks, but very pleasant. The anchorage is easy and wide, with sand and small stones at a depth of between 7 and 15 metres. It is a very quiet place to sleep, with fresh air and surrounded by mountains.
It is located at the mouth of an impressive ravine with fresh, fresh water flowing through it. We recommend a walk through the ravine early in the morning, when it is not too hot, you will find many wild goats grazing along the way, better not to pay too much attention to them and continue walking through the vegetation.
There are also some restaurants in the cove next door if you wish to go ashore for lunch.
Anchorage protected from NE, E, SE, S and SW winds and waves.
It has a good internet connection.
Bóquer Cove
One of the last ones we recommend in the north of the island, the most normal thing is not to find many boats here. It is a very easily accessible cove with a sandy bottom for a comfortable anchorage, just be careful because on the port side you will find an area of rocks in shallow water that are perfect for snorkelling, but it is better to anchor away from them.
The cove itself is beautiful, the water is clean and crystal clear. It is so wild that you will see goats coming down to the beach to ask for food.
We recently found a huge underwater cave. Visit it in a group, never alone, for safety reasons.
The cove is well protected from swells and wind from all angles except NE.
Mesquida Cove
This cove is located on the NE side of the island, and it is difficult to anchor here in good weather, but if the occasion arises, it is a very beautiful stop. The sandy seabed colours the sea with a very turquoise blue that, together with the wide opening it has to the Mediterranean, offers a very good visibility underwater. I think it is one of the cleanest waters in Majorca, along with that of Cap de ses Salines.
The anchorage is pleasant and very easy, taking into account not only the wind but also the waves, which predominate here.
It has a small village that can be reached by dinghy landing on the beach, a walk to the Genoese tower at the top of the hill and several caves that can be visited by swimming or by tender.
The cove is protected from wind and swell from all angles except N, NE and E.
Good internet connection.
Varques Cove
Already on the E side of Mallorca, it would be the first cove we recommend if you are descending towards the south or the last one to visit if you are doing the E side.
It is an unspoilt cove, with good views of the Mallorcan vegetation. You will find the water clean and full of caves and rocks for snorkelling.
The beach is very pleasant, there may be days when there are a lot of people, but at sunset there is no one left, the daytime boats leave and you can enjoy a safe anchorage with few boats. It is a place frequented by climbers, it is a spectacle to see how they climb these vertical walls and then fall into the water from the heights.
Protected from wind and swell from N, NW, W and SW.
Sa nau cove
Very close to Porto Colom we can anchor in this narrow, secluded cove, where the sea is usually like a private swimming pool. The anchoring manoeuvre is not easy, you will have to drop anchor in the centre of the cove and then go stern to the rocks and tie a line to land in order to leave the boat firm in one place and avoid the borneo.
The anchorage is about 4 metres deep in turquoise water, the cove is small and usually crowded, but from the boat you can enjoy the tranquillity.
During the day there are a lot of small charter day boats, so we recommend to go as early as possible in the morning to get a good spot.
You will also find a small restaurant on the coast, a nice place to have a drink in the afternoon on the terrace under the shade of the pine trees.
Protected from wind and waves from all angles except NE and E.
Mondragó Cove
A large cove, easy to anchor in a sandy bottom and with a great atmosphere.
Many boats come to visit this cove, but there is plenty of space. You will find several snorkelling spots with nice caves and jumping spots.
There are also several restaurants on the beach, we don't recommend 100% for eating but it's fine for a drink.
The anchorage is well protected with wind and sea from N, NW, W and SW.
There is a good internet connection.
Marmols Cove
The crystal clear water of this cove is wonderful, the anchorage is not very comfortable because the cove is small, but if you manage to go early and get a good spot, you will be grateful. In the afternoons it empties of boats and is a private cove for those who stay overnight as it is only accessible by boat. It has a small, clean and beautiful unspoilt sandy beach.
The bottom is all sand.
The place does not have a very good internet connection.
It is protected from waves and wind from N, NW, W and SW.
Cap de ses salines
You will hardly find it calm, but it is the clearest and cleanest water in Mallorca. It is very exposed to the open sea and the boats passing by make waves, but if the sea and the wind are very very calm, it is worth anchoring for a while.
It is only protected from NW, N and NE.
The anchorage is sandy at a depth of 3 to 4 metres.
Caragol Cove
A very wild cove, with difficult access by land. It has little space for anchoring as most of its anchorage is posidonia. Bear in mind that the anchor must fall on a sandy clearing, as the police usually go to check it.
Well protected from wind and swell from N, NE, E and SE.
Platja d'es Carbó
Very beautiful cove and well protected thanks to the small islands at the entrance, but you have to be very careful with the shallows. Take a good look at the chart and the plotter before entering. The anchorage is on sand/rock at a depth of about 4 metres and it is an idyllic place for snorkelling.
It is very pretty and the village of Colonia de Sant Jordi is very close by.
It is well protected from wind and waves from all angles except SW, S and SE.
Es Trenc
One of the most famous beaches in Mallorca thanks to its length, it is the longest yellow sandy beach on the island. Situated between two coastal villages and many good restaurants. The water is turquoise and crystal clear and the anchorage is nice and easy.
It is usually anchored in the 4 or 5 metres with a sandy bottom.
Sheltered from bad weather from N to S through E.
Good internet connection, restaurants and supermarkets.
Cala pi
A cove like no other, it reminds us of those coves in the south of Menorca where it seems as if the earth swallows you up. It is one of the most famous coves in Majorca, it has a very crowded sandy beach but the anchorage is very beautiful.
When anchoring, anchor in sand and tie a line to the shore to avoid bollarding, make sure you have enough chain on the ground to avoid problems with bumping into rocks.
It is often visited by other boats, so it is advisable to go early in the morning to get a spot.
There are restaurants within a 5 minute walk. We do not recommend leaving the dinghy on the beach overnight, better to go to the restaurants during the day.
The cove is sheltered from wind and swell from the W, NW, N, NE and E.
Cabrera National Park
One of our favourite places and we highly recommend it for being a quiet, very safe place with wonderful scenery.
Cabrera has a very sheltered anchorage, safe from the N and NW winds.
It has some trails to get to know the island and a castle on top of a rock that can be visited all day long. There is also a small canteen for snacks and drinks.
The anchorage is convenient, with buoys that must be booked at least 20 days in advance due to high demand. The snorkelling is marvellous as the island is protected and is a constant breeding ground for fish of all colours.